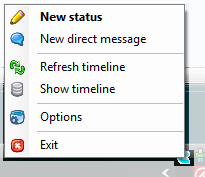 Description
Tway is a Twitter client for Microsoft Windows which uses a very suble approach to UI. Mostly the only thing you will see from the client is a small icon in your system tray.
Tway was designed with one goal in mind: Simplicity. And while it might not look as neat and polished as some other Twitter clients do (especially on Apple-brand platforms) it will certainly be more quick to use, let alone the consumption of important system resources.
Note: Please follow [@tway (on Twitter.com)][1] for updates on Tway.
Features
Simple UI

Does not get in your way and does not place a burden on your computer.

Global Hotkey

Do updates from anywhere on your desktop (currently fixed to Windows-Alt-T).

Quick Reply

Just click on the message balloons to send a reply.

Timeline Caching

Access your timeline, even when you are offline.

Automatic Throttling

Uses information from the Twitter servers to stop itself, if the limit is near (requests to the Twitter servers are limited by Twitter).

Automatic Update (since 1.0.264)

Tway can check for updates and apply them itself.
Download
No download available at the moment. Will be made available again shortly.